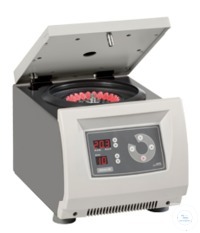 The picture may be different from the article and can include supply, which is not in the standard scope.
Microcentrifuge Biocen 22, Orto Alresa
Validity:

31.12.2021
Last Update:

14.06.2021
Price on request
for 1 Unit
Microcentrifuge Biocen 22, Orto Alresa
Very often the microcentrifuge user must consider the interactions between the tube and the sample, but ... What about the interaction between the tube and the centrifuge?
The Biocen 22 is designed to prevent contamination by interaction with the centrifuge and temperature increasing by:
Chamber stainless steel centrifuge easily sterilized.
Rotors with tight lids.
Ventilation system that helps reduce the temperature.
Designed for small volume, allows 24 microtubes of 2.2 ml, 32 of 0.2 ml, and up to 24 tubes of 1.5 x 75 mm for microhematocrit, reaching 15.000 RPM / 21.885 xg.
Reduce spin time by controlling the different stages, allowing braking according to the type of sample.
Optimizing the samples separation on a safe environment.

 
User

 friendliness
more
Technical data
| | |
| --- | --- |
| Refrigeration available: | No |