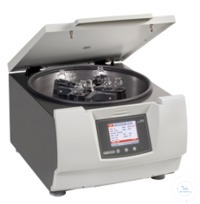 The picture may be different from the article and can include supply, which is not in the standard scope.
ASTM centrifuge Digtor 21 C-8, Orto Alresa
Validity:

31.12.2021
Last Update:

14.06.2021
Price on request
for 1 Unit
ASTM centrifuge Digtor 21 C-8, Orto Alresa
The centrifuge Digtor 21 C-8 is designed for the determination of water and sediments in oils, and characteristics of precipitation and demulsibility and the characterization of waste oils, on labs with a high number of samples, due to it can spin up to 8 tubes of 8" at once.
It is provided with accessories for spin cylinder-conical tubes of 6 and 8 inches, pear-shaped tubes of 6 inches and tubes for trace elements and 12,5ml.
Its proper for processing samples according following standards : ASTM D 91, D 96, D 893, D 1796, D 2273, D 2709, D 2711, D 4007, D 5546, API 2542, API 2548, BS 4385, ISO 3734, ISO 9030, IP75, IP 359, NF M07-020.
 
User

 friendliness
more