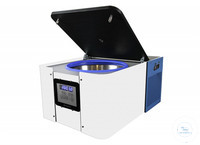 The picture may be different from the article and can include supply, which is not in the standard scope.
Refrigerated PrO-Analytical Large Prime Centrifuge CR7000R (2/3L), Centurion
Validity:

31.12.2018
Last Update:

06.12.2017
Show all alternative articles (2)
Price on request
for 1 piece
Refrigerated PrO-Analytical Large Prime Centrifuge CR7000R (2/3L), Centurion
CR7000R Large Prime Centrifuge (2/3L) Refrigerated
CR7000R.(230V 50Hz). 1.CR7000R.(110V 60Hz). 2.CR7000R.(230V 60Hz)
Speed 500-15,000 Rpm
(10 Rpm steps)
Rcf Max 22,000 G
Timer 0-99 Mins & Hold
(30 sec steps)
Dimensions HWD 410 x 998 x
630mm
Weight 110 Kg (without rotor)
Power 1200 Watts
Memory 10 programs
Accel rates 10 programs
Decel rates 10 programs
Temp -9°C to + 40°C PID
Controlled to + / - 1°C
Trolley available:
Part number. XMRFS
Total height 71 cm
PrO-Analytical range. Workhorse Centrifuges for all uses.
Seperation of Chemicals, Blood, Urine, Faeces, DNA, Biochemical, Zoological.
In Industrial, Science, Universities, Pharmaceutical, R&D and all other Laboratories
3 Year Warranty on Parts and 5 years Warranty on the Motor.
Some of the standard Quality features include:
An extra thick stainless steel bowl

An alloy and steel frame

A world leading inverter

The best quality European brushless motor
Our PrO-Analytical range of Centrifuges
 also include the following user features:
A Bright Blue LED display

10 acceleration rates

10 Decelleration rates

10 memory Program.

Program in Speed or Rcf (G)

A timer from 0-99 minutes, and Constant. Program in 30 second increments

A pulse short run button
As centrifuges can be very dangerous in the event of a malfunction or if they are mishandled we have included various safety features to protect the user.
The Pro-Analytical centrifuge range includes the following safety features:
A multi-point locking lid

Emergency lid release

A lid spring strut

Lid lock detection

Imbalance detection (new high speed sensor type for 2017)

An over speed sensor

A barrier ring

A motor overheat sensor.
All our ranges are CE Marked and Compliant.
ISO 9001:2008 and ISO 13485 Quality Certified
more
Technical data
| | |
| --- | --- |
| Maximum RZB: | 22000 |
| Refrigeration available: | Yes |
| Maximum rotation speed: | 15000 min-1 |
| Voltage supply: | 230 V AC |
| Width: | 998 mm |
| Depth: | 630 mm |
| Height: | 410 mm |
Accessories & spare parts: